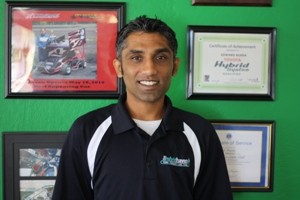 15 Years Experience | Master Technician
Owner – California Hybrid Repair
Umesh Patel is a native of Orange County in Southern California and have lived in Sonoma County since 2013. Since 2000, Umesh has been employed in the automotive industry. He has held all positions from Service Writer to Automotive Technician.  This experience from the front to the back of the shop has provided him extensive automotive repair experience. There is no issue, minor or major that Umesh has not dealt with.
In 2013, Ed Rueda, owner of The Hybrid Haven asked Umesh to come to Sonoma County and help build the The Hybrid Haven brand. For 7 years Umesh work with Ed to build The Hybrid Haven into the top Hybrid Repair facility in Northern California. Umesh's extensive knowledge and certifications in hybrid repair allowed him to help solidify him as a master technician and one of the top hybrid repair mechanics around.
Upon Ed's passing in early 2020, The Hybrid Haven was shut down and Umesh opened his own shop next door to the Thy Hybird Haven.
After graduating from Universal Technical Institute at the top of his class in 2006, he moved from service writing to begin his career as an automotive technician. Prior to joining Hybrid Haven, Umesh has worked at independent repair facilities, dealerships and performance shops.
Often times you'll find Umesh advising other automotive repair shops when they have questions on diagnosing issues with hybrid vehicles. Umesh aspires to continue to expand his knowledge with the electric and hybird vehicles of tomorrow and build California Hybird Repair as the top hybrid and electric vehicle repair facilities in the nation.
At California Hybrid Repair you can expect quality repairs, honest pricing and transparency. We are fixing tomorrows cars today!